How Zinstall Backup Works
Learn how Zinstall Backup works - and how to use it to backup your programs, settings and files
Zinstall Backup provides complete protection of your programs, settings and files. It will automatically back them up, and will keep your backup always up-to-date, so that any changes you make, and any software you install, gets saved as well.
Here is a quick overview of how it works.
---
Got some Frequently Asked Questions? Click here!
Where can Zinstall Backup save my stuff?
The easiest option is just an external USB drive. Zinstall Backup will automatically detect the USB hard drive and save your backup to that. Otherwise, you can save it to any other drive that has enough free space (even to a network drive or personal cloud!)
Does my backup drive have to be constantly connected? What if I have to remove it?
No, you don't need to have your backup drive connected at all times. Zinstall Backup will check if it's there from time to time, and when it is - do an update to your backup, automatically. You don't need to do anything at all, as long as you connect the drive at least once in a while.
Can I have other stuff, like my files and folders, on the backup drive - in addition to the backup? Or will everything get erased from it?
Nothing gets erased from the drive you use for backup. You can even continue using it normally to store your stuff, in addition to the backup. Zinstall Backup will just create its own folder on the drive and keep the backup files there.
Will Zinstall Backup work with Windows 10? 8? 7?
Yes, Windows 10 is fully supported - as well as Windows 8.1, 8, and 7.
What if my new computer has a different Windows version? Can I still restore?
Yes. Even if you have a completely different Windows version on the new computer, you can restore from your Zinstall backup. For example, you can restore a backup of an old Windows 7 32bit to a brand new Windows 10 64bit. To restore programs (not just files), you will also need a copy of Zinstall Computer Rescue Kit. It is complementary for restores on same computer, and for a programs restore to a different computer, you'll get a 20% discount on it.
What do I need to do to make Zinstall Backup work?
You just need to download and run it on your computer. It will automatically detect available backup storage (local - such as an external hard drive - and Cloud - such as your Dropbox), and will immediately start protecting your computer.
---
Initial Backup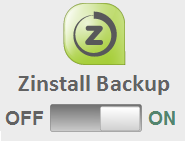 When you first run Zinstall Backup on your computer, it will automatically choose the best place to keep your backup. For example, you can connect a USB drive to the computer, and it will be detected by Zinstall Backup.
Zinstall Backup will then show you the chosen drive, and offer to start the initial backup.
All you need to do is press the big "On" button.
Ongoing Backup
After the initial backup is done, Zinstall Backup will keep your backup always up to date, without you doing anything. It will run in background, and perform regular updates to your backup, once every hour. Changes you make, files that you create, pictures that you add or programs that you install will all get safely updated into your backup.
This process is silent and efficient, so you will likely not even feel it happening. It will not slow down your computer or interfere with your work. You do not need to do anything and do not need to remember to do a backup - it happens by itself. And it will always show you when the latest backup was made, so that you can be sure that everything is working according to plan.
This way, if the computer suddenly stops working, you will have a backup that is fully up to date - and not from a year ago.
File restore
A backup is not just useful in case of a disaster. You will find it even more useful in your day to day work.
Your Zinstall Backup indexes all of your files and programs, so you can use it to easily locate and restore any file and any version of that file.
Accidentally deleted an important photo? No problem, just open your Backup and restore it in a few clicks.
Accidentally deleted half of your document? No problem - in your Zinstall Backup, you can restore not just the latest, but any older version of that document, from the beginning of your backup!
Here's how: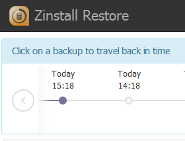 Open your Zinstall Backup's Restore wizard.
If you remember the file's name, just type it into the search box. It will appear below.
If you don't remember what the file was called, but do remember where it was, you can browse your backup files, and find your file like that.
Once you have the file, just hit restore - and it will appear exactly where it was, up to date!
That's it - your file is restored!
Full restore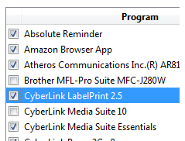 Your Zinstall Backup can actually restore all the stuff from your backed up computer (programs, settings, files, emails, accounts, password, favorites, documents, pictures, music, etc.) onto a completely different computer and completely different Windows. Even if you've backed up a Windows 7 32bit Dell, and your replacement PC is a Windows 10 64bit HP, Zinstall Backup will still restore everything you've got. It's a unique capability - no other product can do this!
To do a full restore, connect your USB backup drive to the new computer, and run Zinstall Rescue Kit on the new PC. When prompted, tell it to migrate from the backup container on the USB drive, and let it complete the restore. When finished, just restart the computer, and you'll see all the programs, settings and files from your crashed computer.
We are here to help
Questions? Need help? Our techs will help you every step of the way, or even remotely over the Internet - just contact our Support. You can also chat with us (bottom-right corner of this page, or call us at 877.444.1588.
Video: The easiest way to backup your whole computer, automatically and efficiently