Zinstall XP7 takes you to your new computer.
When you buy a new computer, your digital life is not beginning from scratch. You need all your files, settings, preferences and favorites on your new system, and, most important, your programs have to continue working exactly as before.
Moving to a new PC – just like moving to a new home – is a complicated, troublesome process. Today, when a new PC also means the new Windows 7 operating system, this becomes even more problematic.
Here at Zinstall, we work to ensure your transition is complete and stress-free. Our unique technology takes programs, settings and files from your old system to the new one, keeping everything fully functional - just as before. And if you have any trouble or need assistance - our support team can resolve even the most problematic cases. Even if your old computer is broken, and the only thing remaining is its hard drive - we can restore your old programs on the new computer.
Got a new computer and need to transfer all your stuff from the old one? Upgrading your computer to Windows 7? No matter the scenario, Zinstall XP7 will do the job!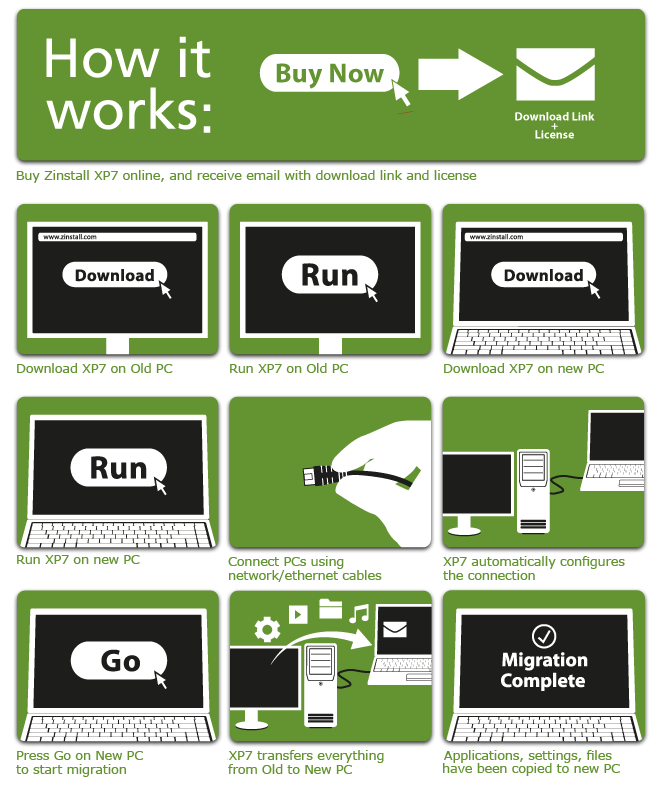 Security and stability:

With Zinstall, your new system is completely protected from any viruses and malware. No corrupt system files (DLLs, registry entries, drivers) are inserted into your new Windows 7. Zinstall completely preserves your system security and stability. No matter how many applications you had on the old Windows XP, your system remains clean and fast.
100% confidence:

Nothing is left behind - all your applications work on your new Windows 7 - exactly as they did before. Music, pictures, documents and all other files - everything is there. Zinstall preserves your entire old system.Zinstall XP7 works with any Windows edition (from Home Premium to Ultimate), and with 32-bit and 64-bit systems. Zinstall XP7 does not require Hardware-Assisted Virtualization to be supported by your computer.
Extreme ease of use:

You don't have to configure anything. Do you have a stand-alone PC? Maybe two PCs in a home network? Two hard drives? Windows installed on an external drive? No matter what it is, Zinstall is completely automatic and easy to use.
Feel at home:

Even if you are not yet familiar with Windows 7, you will still feel at home with it - right from the start. With a single click, you can instantly switch to your old, familiar Windows XP environment. Everything works, looks and feels exactly as your old computer - even the icons on the desktop are there. With Zinstall, you can adapt to Windows 7 gradually, at your own pace.
Migration guaranteed:

We are 100% sure about our product. That's why we will return your payment if you encounter any technical problem we are unable to solve. We are committed to making sure your migration is fully successful - just like it was for our customers from 183 countries all over the world, who already enjoy their new computers.

Still hesitate? Need help? Our system engineers will accompany you step-by-step and even migrate your PC remotely over the Internet. Contact our Premium Support to schedule your Premium Migration session. Our support team is available 24x7 (by appointment).