To download the Zinstall WinWin, click here.
Your License Information
Your serial number is sent to your email address automatically upon purchasing the software. If you have not received your email within 1 hour, please check your spam folder. Please make sure the email address you have provided is valid.
Have not purchased Zinstall WinWin yet?
You can purchase it here and start your transfer right away.
User Guide
Click here to download the detailed user guide. A quick start guide is below.
Quick Start Guide for Zinstall Win Win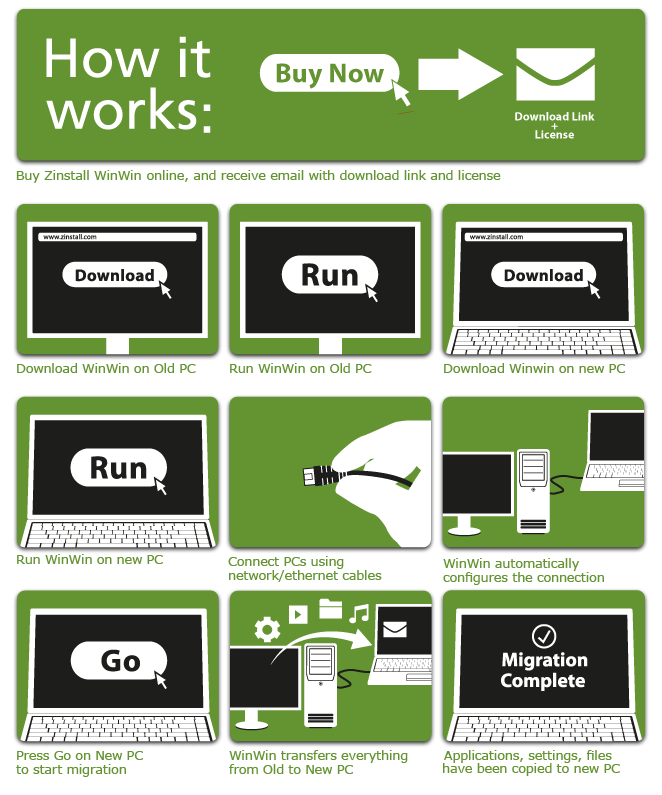 Before starting the migration process:
Make sure you have a backup of your new system
Save all files and close all running applications
Disable Internet Security Suites, Firewalls, and Anti-Virus Products
The Migration process must be run by an administrator

Performing the migration:
On your old computer:

Connect the computer to the internet
Run the downloaded software, to perform the product activation
When prompted, enter your license information

Do the same on your new computer
Connect your old computer and your new computer via home network or using a standard network cable
Choose "This is my old PC" or "This is my new PC" accordingly
Wait for the green checkmark to appear on the old computer
Press the "Go" button on your new computer when ready