Connect to Technician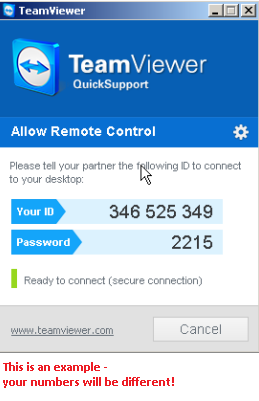 In order to connect to one of our techs, please follow the instructions below.
ON EACH OF YOUR COMPUTERS (both the old one and the new one):
1. Download and run the QuickSupport connection file: https://download.teamviewer.com/download/TeamViewerQS.exe
2. You will see TeamViewer screen (as seen in the example on the right).
3. Send us (by email) the two numbers on YOUR screen:
Your ID (9 digit number)
Password (4 digit number)
DO NOT CLOSE THE WINDOW where you have received the abovementioned ID & Password
4. If there is a computer password configured (i.e., password you enter when you turn the computer on), please send it as well.
5. DO NOT restart the computer and DO NOT disconnect it from the Internet, until the remote support session is completed.